The hotel is easy to reach from the Train station and Piazzale Roma and Tronchetto parking lots by public transportation. Ferry 1 and 2 or water taxi. Get off at the St. Mark's stop, cross the square walking under the Clock Tower. Turn right in Calle Larga San Marco and take your second left onto Calle degli Specchieri where you will find the Hotel Antico Panada. Alternatively, after a six-minute ferry ride, get off at the Rialto stop, It's just a 3 or 4 minute walk to Calle degli Specchieri where the Hotel Antico Panada awaits you.
From the Marco Polo airport, take the 'Alilaguna' ferry or water taxi to St. Mark's and follow the directions above.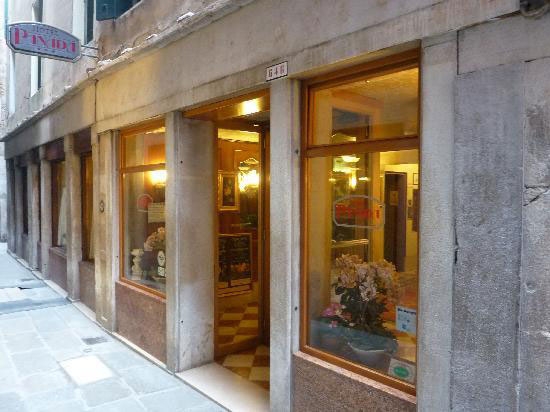 In Venice, in the heart of St. Mark's district, the 3-star Hotel Antico Panada enjoys an envious location: just a short walk without any bridges separate you from the enchanting settings of one of the most beautiful squares in the world. The hotel is surrounded by the most celebrated fashion label boutiques and best restaurants.
St. Mark's, dominated by its lofty bell tower and embellished by the magnificent basilica, is the Istrian stone parlor surrounded by celebrated cafes and an incomparable atmosphere that becomes romantic and even more intimate at sunrise, enveloped by the sweet sounds of its orchestras.
St. Mark's basin opens beyond the majestic Ducal Palace on the Schiavoni shore with the Island of San Giorgio and gondola and boat traffic. To the rights, the extraordinary outline of the Basilica della Salute, a place dear to all Venetian who celebrate its feast day during the month of November.
Turn to your left to take in the long shore the extends beyond the Arsenale shipyard to the Giardini, prestigious seat of the Biennale d'Arte. Further on, the Lido di Venezia island that each year hosts the famous International Film Festival floats on the horizon.
The Hotel Antico Panada's strategic location is just a stone's throw from the famous Rialto Bridge, animated during the day by the traditional market.
Nearby your hotel you'll find the 'Gran Teatro la Fenice' and most important museums in Venice like the Ducal Palace (the residence of the Duke of the Venetian Republic) with rooms dedicated to the greatest Venetian painters, Correr museum, Ca'Pesaro and Palazzo Grassi. The Murano, Burano and Torcello island - famous for glass and lace - are easy to reach using public transportation or tour boats, leaving the nearby docks at St. Mark's.